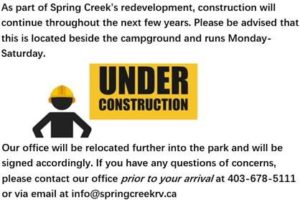 Our staff are here to help make your trip to the Canadian Rockies as memorable as possible. If there is anything that we can do to make your stay more enjoyable please ask and we will do our utmost to help.
Check-In 1:00   Check-Out 11:00
No Group Bonfires or Social Gatherings, please practice social distancing by keeping 2m/6 feet between yourself and others
If you would like to extend your stay, please check with the office for availability before 11:00 AM.
NO REFUNDS/RAIN CHECKS after your check-in/if you leave early/for no shows.
Please observe the speed limit in the park of 30 km/h
ONLY PARK in your designated site.
Quiet hours are from 11:00 pm until 7:00 am as per Town of Canmore by-law. Security issues, call or text Spillet Security 403-493-4661 or 403-493-4660.
All fires are to be out by 23:00.
Generators or electric heaters are not permitted at any time.
NO Tents or NO Mats are allowed to be used.
Children must not be left unsupervised. The playground is open, use at your own risk. Please be aware that we are in a wildlife corridor. Wild animals do come into the park. (please come to the office to get information on living with wildlife)
Pets are to be leashed and under control at all times. Please pick up after your pet. (doggie bags are provided around the park).
Do not leave food or garbage outside or fire pits.
DO NOT feed or harass the animals. Please do not damage the sensitive animal habitats surrounding the creeks.
No RV/Trailer washing is permitted in the park. Cleaning the windshield is permitted. The office has information on the local RV wash.
Please do not park on the grass or in front of the permanent resident's homes.
Please do not hang laundry at your site. (see front desk staff for info on laundry facilities)
DO NOT trim, chop or damage any trees in the Park or surrounding areas. Fines start at $500.00.
SCRV Management reserves the right to refuse service to anyone and will not be responsible for any accidents, injuries to guests/visitors or for loss/damage to personal property.
Dish washing is not permitted in the washroom/shower facility.
Recycling Bins are available for your recycling needs throughout the park, please use them.
Smoking or vaping of cannabis is prohibited throughout the campground.
The washroom, showers, laundry and Sanitary Dump will remain open throughout the winter months, please dispose of your waste appropriately and help maintain our space by tidying up after yourself.