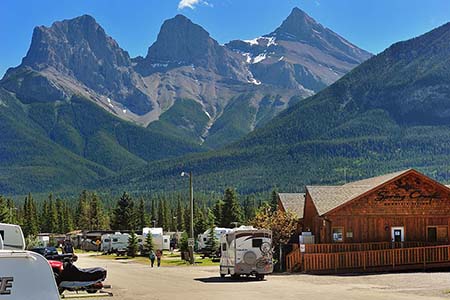 FULL PAYMENT IS DUE AT THE TIME OF RESERVATION CONFIRMATION

(We accept MasterCard and Visa.)(Ask about the Good Sam and CAA/AMA discounts)
A-SECTION is now closed and will no longer be in use.

Moving forward we will only have five 15 amp only sites and two 15 amp with water sites.
Check-In: 1:00 PM
Check-out: 11:00 AM
(Please note: Tenting is not permitted) Rates subject to changes without notice.
| SITE TYPE | DAILY | WEEKLY |
| --- | --- | --- |
| 15 amp | $40 | $240 |
| 15 amp, water | $43 | $258 |
| 30 amp, water & sewer | $48 | $288 |
| 30 amp, water & sewer, pull-through | $51 | $306 |
| 50 amp, water & sewer – Creekside | $56 | $336 |
| 50 amp, water & sewer, pull-through | $59 | $354 |
 PLEASE NOTE
All prices are shown in Canadian dollars.
All prices subject to 5% GST (Canadian General Sales Tax).
All site types are subject to availability.
Rates are based on 2 adults
Extra adults and dogs are $2 per night plus tax
Rates subject to change.
Good Sams and AAA/CAA discounts can be applied at time of booking
SEASONAL SITES for 2017<< SOLD OUT!
WINTER Camping available. For rates and availability call 1-403-678-5111
CANCELLATION POLICY
To cancel a reservation please phone our front desk at 403-678-5111 during office hours. Please be ready to provide your reservation number.
We have a 7-day cancellation policy. If you need to cancel more than 7 days prior to your arrival there is a $10.00 Cancellation fee, which is deducted from your payment. All other funds would be returned.
If you cancel less than 7 days prior to your arrival date, there is a fee equal to a one night stay, or two nights if your stay is during a long weekend.
There are no refunds after check-in or for no-shows.
All other fees will be refunded.
Definition of a Seasonal Site:
A Seasonal Site is rented at a discount rate to campers who wish to spend weekends or a week at a time in the mountains. It is the Seasonal Campers responsibility to maintain the lot that they have reserved for the season, without using chemicals. Seasonal Campsites are a home away from home, but they are not full-time residential sites.
Campers who stay nightly all summer/winter do not apply to the Seasonal rate. They are then considered daily/weekly campers and must pay the daily/weekly rates. This will be strictly enforced summer of 2017 and moving forward.
NO AIR BNB PERMITTED.