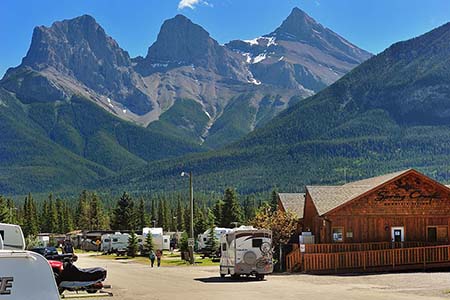 By RESERVATION ONLY!!
LONG TERM CAMPING WITH 2 WEEK MINIMUM STAY closing October 10, 2022!
FULL PAYMENT IS DUE AT THE TIME OF RESERVATION CONFIRMATION

(We accept MasterCard and Visa, sorry no Visa/MasterCard Debit cards.)
CONSTRUCTION: As part of Spring Creek's Redevelopment, construction will be ongoing over the next few years.

Check-In: 1:00 PM
Check-out: 11:00 AM
(Please note: Tenting is not permitted)
Rates subject to changes without notice.
2022 Bookings will be available January 3rd, 2022.  ONLY 28 full serviced sites available!
SITE TYPE
BI-WEEKLY

30 amp, water & sewer – pull -through – 14 sites

$700

50 amp, water & sewer – back in Creekside – 14

 sites

$750
PLEASE NOTE
All prices are shown in Canadian dollars.
All prices subject to 5% GST (Canadian General Sales Tax).
All site types are subject to availability.
Rates are based on 2 adults
Extra additional adults or any dogs are subject to $2/night fee plus tax
Rates subject to change.
CANCELLATION POLICY
To cancel a reservation please phone our front desk at 403-678-5111 during office hours. Please be ready to provide your reservation number.
We have a 7-day cancellation policy. If you need to cancel more than 7 days prior to your arrival, there is a 10% Cancellation fee which is deducted from your payment. All other funds would be returned.
If you cancel less than 7 days prior to your arrival date, there is a fee equal to a one week stay from your payment with the remaining funds returned.
If we do not receive the required 7 days notice, you will forfeit 1 week stay.
No refunds will be given after check-in or for any no shows or cancellations after 1 pm on the day of arrival.  If you leave early, you forfeit the remaining nights stay.
NO AIR BNB PERMITTED.