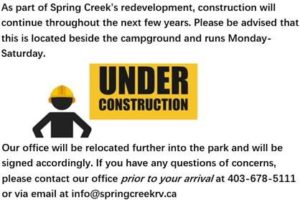 CONSTRUCTION: As part of Spring Creek's Redevelopment, construction will be ongoing over the next few years.
**Street Address does not always work with GPS**
GPS coordinates 
North 51.08369 & West 115.34741
Spring Creek RV Park is a scenic 23 kilometers (14 miles) from Banff by car.
Off of Highway 1 take exit 91. Turn right onto Bow Valley Trail at the end of the ramp and proceed to the traffic circle. Take the third leg off the traffic circle onto Spring Creek Drive. Then go over the bridge and take you first left, our Sales Center will be on your right. Our office is past the washroom/shower facilities, the big green brick building, on your left.
Check-In: 1:00 PM
Check-Out: 11:00 AM
If at anytime you feel you may need assistance locating us, please call in and one of our friendly Spring Creek staff would be more than happy to assist you.